Do you need to practice speaking English?

Online English Tutor
Travel Abroad, Get a Better Job, Speak with Confidence!
Your Online English Teacher Anywhere, Any Time – Easy Schedule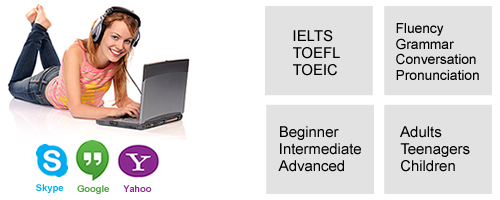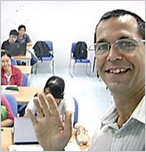 Hi! I'm Fred the online English tutor.
Do you need to practice speaking English? Have you been studying English for a long time but you still can't understand native speakers? Don't worry- I can help! After just a few lessons with your online English tutor you will speak more easily and feel much more confident!
Teaching English to students all around the world just like YOU has been my full-time job since 2001. (Find out more about me on the About page.)

Yari, Italy
"Fred's lessons are great! You get to learn pure American English, from grammar to idioms. Thanks to Fred I've improved my comprehension skills and I feel much more confident speaking in public."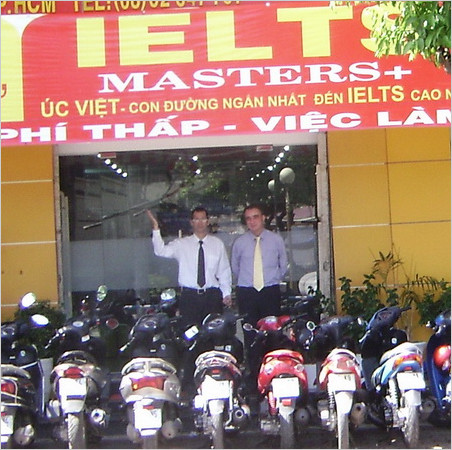 What You Need For Lessons
We will talk on voice chat. You only need two things to start:
1. internet access
2. a microphone
If you have both, you will do great! You can also use a webcam if you want, but it's not necessary. Most of my students use Skype, Yahoo, or Google Talk. Any of these services will work great!

Alex, in Russian
"Фред – замечательный педагог. Такого, среди иностранцев, найти непросто. Учусь один раз в неделю. На уроке говорю и слушаю без перерыва, ведь практика, самое главное (после профессионализма преподавателя) на любых занятиях. Рекомендую попробовать, тем более, что первое занятие – бесплатное. Удачи!" Алексей
Alex, in English
"Fred is brilliant teacher. It is difficult to find someone like him. I study one time a week. On the lessons, I speak and listen non stop, because a practice is a main thing in a studying (after the teacher professionalism). I recommend to try the lesson. Absolutely sure, you like it! Have a luck!"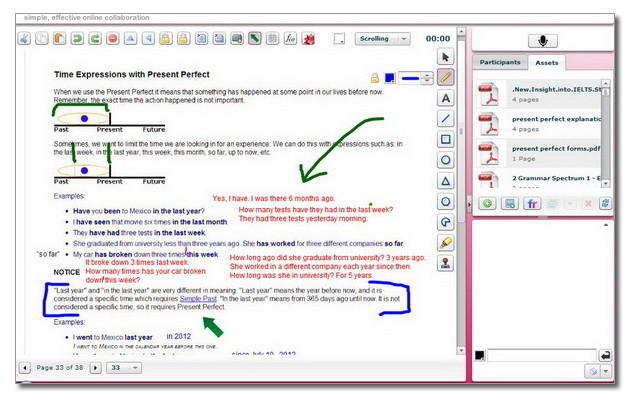 How Does It Work?
We will meet and talk on the internet chat you like best; most students use Skype or Google. We can also use an online whiteboard like in the picture.
Every student has different needs; to get the best results, we will focus on your goals. Your fluency and confidence will improve quickly when you have regular lessons with your online English teacher.

Andrey, Russia
"Earlier I learned English myself with varying success, but though I got something result and spent 10 years my verbal English didn't become better. Then I thought took English Lesson by Skype and found Fred's site. After some time I became to speak much better. Thanks to You, Fred"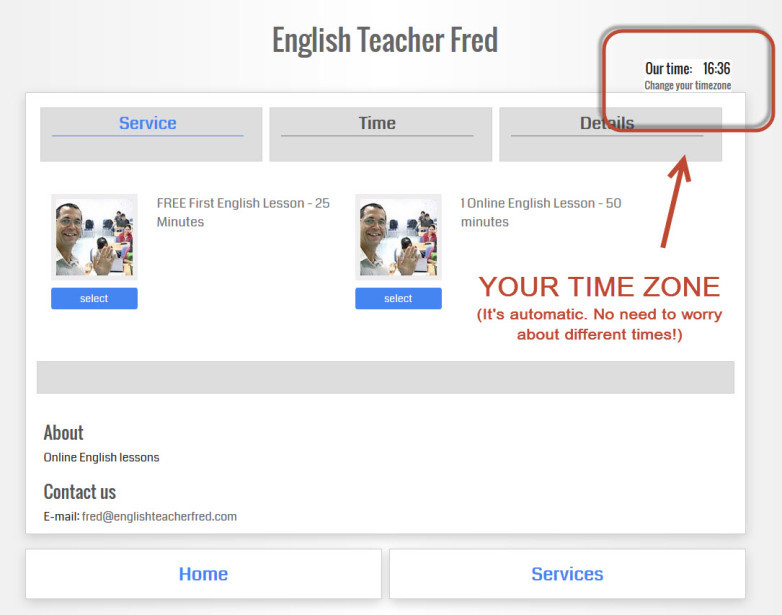 When Will We Meet?
Get as many lessons as you want, any time you want! Some students have online English lessons once a week, some have more.
Any time available on the calendar is okay for your lessons. Just check the time zone to make sure it's set to YOUR time. No need to worry about time zones- it's easy!

Stef, Germany
"As an SAP consultant I travel quite a lot and do not have the time to attend an English course on a regular basis. Fred's course provides me the possibilty to take English classes no matter where I am. My goal is to improve my pronounciation and increase my vocabulary. Therefore it helps me a lot to chat with a native American-English speaker. Fred's teaching is creative and customized to my needs. I consider Fred as a great teacher and definitely recommend his classes!"
How Much Does It Cost?
Lessons with an online English tutor are the fastest and easiest way to improve your English! I will correct your pronunciation and grammar, your confidence and skill will improve quickly.
With online English lessons you get more personal attention than you get in a school classroom. With online lessons you will learn faster than using video or audio courses.
I have been an an English teacher since 2001 and an online English teacher since 2007! I have helped thousands of students in classrooms and online.

Olga, Russia
"I am sure that it's very important to find a good teacher for learning English. Fred is a great teacher! He can find the right method for learning English for each student. His lessons are interesting and full of useful information. I completely stopped using the dictionary at the lessons in a short time. I feel that my English became better and it's great! Thank you Fred!"