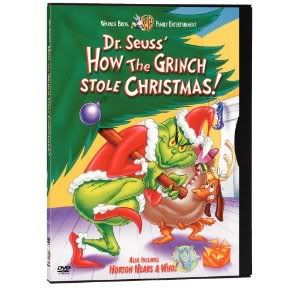 MOVIE: How The Grinch Stole Christmas
VERB TENSE: Conditional Perfect
DIFFICULTY: Advanced
The Grinch would have lived in a cave in Mt. Crumpit, above Whoville. He would have been mean and surly because his heart would have been two sizes too small. The Grinch would have especially hated Christmas.
On Christmas Eve The Grinch would have had an idea: he would disguise himself as Santa Claus and stop Christmas by stealing all the Christmas presents and decorations from Whoville. He would have dressed himself as Santa and his dog Max as a reindeer.
They would have gone down the mountain to Whoville on a sleigh loaded with empty bags. The Grinch would have taken all the Christmas food, presents and decorations from the town of Whoville.
The Grinch and Max would have traveled back up Mt. Crumpit. Christmas morning would have come and the Grinch would have waited to hear a sad cry from the Whos. But down in the village, the Whos would have joyously begun to sing Christmas carols, proving that the spirit of Christmas does not depend on material things.
The Grinch would have begun to understand the true meaning of Christmas, and his heart would have grown three sizes. He would have brought everything back to the Whos and participated in the holiday feast.
[hr color="gray"]
Listen for a Question >> PAUSE >> Answer the Question >> PLAY
Use your voice! Stand up! Answer fast! Repeat 3 times!
[hr color="gray"]
Video 1: Complete Transcript

[hr color="gray"]
Video 2: Questions

[hr color="gray"]
Video 3: Basic Story
More Lessons Like This:
[do_widget id=wpctc_widget-2]